This page is created on 16th March 2015 as I endeavor to assist as many newbies as I possibly can since I know how tough it can be to get the truth in a marketplace that's so filled with ignorance and sharks.
I don't claim to know every single thing but having been involved with internet marketing for over 10 years, think I can share some things that will be helpful.
Enjoy! =)
General IM
Q: Which niche is the EASIEST to profit from?
I've personally been in the main niches before such as health, personal development, etc but I've found the IM/MMO (internet marketing / make money online) niche to be the easiest for newbies to break into and start profiting in a super short amount of time!
List Building
Q: Which autoresponder should I go with? Aweber or GetResponse?
By FAR & without a doubt, it's Aweber! They trump & excel GetResponse in email deliverability and that's the MOST important criteria in any Autoresponder service.
Q: What's the chief purpose of the squeeze page?
Clearly and by FAR, it is to capture the visitors' TRUE email address. The common mistake I see is that many marketers try to overachieve with their squeeze page by adding in branding elements as well which will very often cause a drop in conversions. Branding can be done post capturing the visitor's email but shouldn't be before IMHO. 1 page, 1 main purpose!
Q: How do I boost my squeeze page's opt-in rate & also thereafter, sales conversions?
Great & wise question!
And here are some of my simple but POWERFUL tips:
Have a benefit driven & specific headline!

Use numbers whenever possible in your headline

Keep your headline to no more than 30 words. Generally speaking, the shorter the better.

Make sure your squeeze page loads in under 3 seconds (I use
for this..)

Remove the "first name / name" field (UNLESS absolutely necessary or you're building a buyers' list)

Make sure to check that the opt-in box is as high up as possible on the page (i.e. Above the fold)

Check to see how your squeeze page looks like on mobile devices like the iPhone and iPad (Often overlooked!)

Turn off double / confirmed opt-in (UNLESS absolutely necessary or you're building a buyers' list)

Remove site logo & branding elements (See question before this)

Remove any CAPTCHA processes that you have control over

Eliminate / minimize redirects & in-between pages

Make sure your squeeze page is viewable on FireFox, Chrome & Internet Explorer
Q: Which click tracker, rotator and link manager should I use since there are so many types out there?
I'll ONLY go with ClickMagick. Period! Used them for quite some time now and can't recommend them enough. (Tip: Use my link and sign up for your free trial. And let me know. As a bonus, I'll send you one of my own created products!)
Q: What's the standard open rate & click rate for most lists?
Average open rate is usually 2% – 10% and click rate is 1%
Q: What are the best times for broadcasting?
Generally speaking, 6am – 9am (Mondays to Fridays) but do test this for yourself with your list.
Solo Ads & Funnel Clicks
Q: What's a squeeze page? What is a solo ad? What are funnel clicks? What's a swipe?
Squeeze page – A squeeze page is simply a webpage with an opt-in box that allows visitors to enter in their email address. Nothing less.
Here is an example of a squeeze page (with its elements labelled)…
Solo Ad – A solo ad is a one time email broadcast / blast you purchase from a vendor or provider that has created a "list" of people / email subscribers they have collected for the purpose of promoting your product or service.
Funnel Clicks – Funnel clicks is traffic that comes from a provider's funnel that's apart from his email broadcasts to his list. They tend to be cheaper than solo ads and typically comes from:
Thank you page (Highest quality and the rest in no order of quality)
Product download page
Subscription thank you pages
Links inside pdf reports, video pages, blog posts, any additional content
Links contained in zip files
Other pages in the funnel (e.g. Upsell / downsell pages
Swipe – An ad copy that you may or may not pass to your solo provider for him or her to send it out to their subscribers to get targeted traffic for you.
Here's an example of a swipe…
Email Subject Line
Wanted you to try this
Email Body
Hi there … how's it going?
I'm not sure whether you're following or searching for success by Anthony Robbins.
He said:
"To be successful, follow people who has already achieved success"
That's totally a wake up call for me. I mean, it is the shortcut to success. So, if you want
success, you can simply follow it.
Here are a few free offers which people had success with.
==>> Success guide, limited spots
And here's another guide which I think might be useful for you.
==> Grab this
Take a breath and prepare to be amazed. Tell me about it.
Cheers!
To your success,
[Name or pen name of solo vendor]
Q: Why is it that most solo providers say they won't use my swipe? Isn't my swipe important?
Most won't use your swipe because of multiple reasons. Firstly, because of the way they've structured their traffic delivery via rotators, they can't use a specific swipe about product XYZ.
Usually it's a generic make money online swipe they're using. And the second main reason is that your swipe usually doesn't do as well as theirs and they know what gets their subscribers to open and click on the links in their email broadcasts.
Solo providers who say "no" to sending your own swipe are telling you the truth. And many (conservatively speaking) of those who say "yes" are lying to you because they know it gets your business.
UNLESS you've got a phenomenally proven swipe or found yourself in contact with a newbie provider or lastly, those who are really willing to send your swipe to test (far and few between), it won't be in their interest to send your swipe.
What's WAY, WAY MORE important is that they've got proven results with their list. If you only stick to those who are willing to send your swipe, you'll be missing out on a WHOLE LOT of great traffic.
Q: Just what is exit traffic?
In short, exit traffic is the traffic that leaves any of your pages on your website to go to an external website that isn't yours.
Pity though that many people don't know that they can monetize exit traffic … much less how they can actually monetize it for at least $0.25 per visitor on exit.
Give me a week's time (ETA: Late March 2015) and I'll have some videos sharing with you on exit traffic and how to profit from it. 🙂
Q: How do I know the solo ad seller I'm buying from is selling real clicks and not bot traffic or fake opt ins? (Asked by Joe Chapman)
This can get technical but for simplicity's sake … Real clicks will get you:
Sales (Assuming your offer is attractive, priced right and is presented to the right target audience
Email opens (If you have a follow up series set up, even the 5th or 7th follow up emails should have subscribers opening these emails)
Here's a tip: If the seller is offering you VERY CHEAP clicks (e.g. under $0.40 per click at time of this writing – March 2015), it's a yellow flag to me.
Why?
Because if the traffic was any good, the vendor would send the traffic to CPA / affiliate offers, etc. To make it worth his / her while, they'll need to charge decent rates. Trust that makes sense to you?
Another tip: Verify 2 – 3 of their testimonials with the people they claim to have bought from them.
3rd tip: Check against my solo ads blacklist (obviously it's not meant to be exhaustive but just doing what I can to warn newbies).
4th tip: If you have no "name field" on your squeeze page yet see names attached to opt-ins from a particular provider, that's a total giveaway that it's fake. (My friend has experienced this! – Avoid "Liz Hall" or any other "Hall"s like the plague UNLESS you're using LeadPages, ClickFunnels or other platforms with pre-populating technology)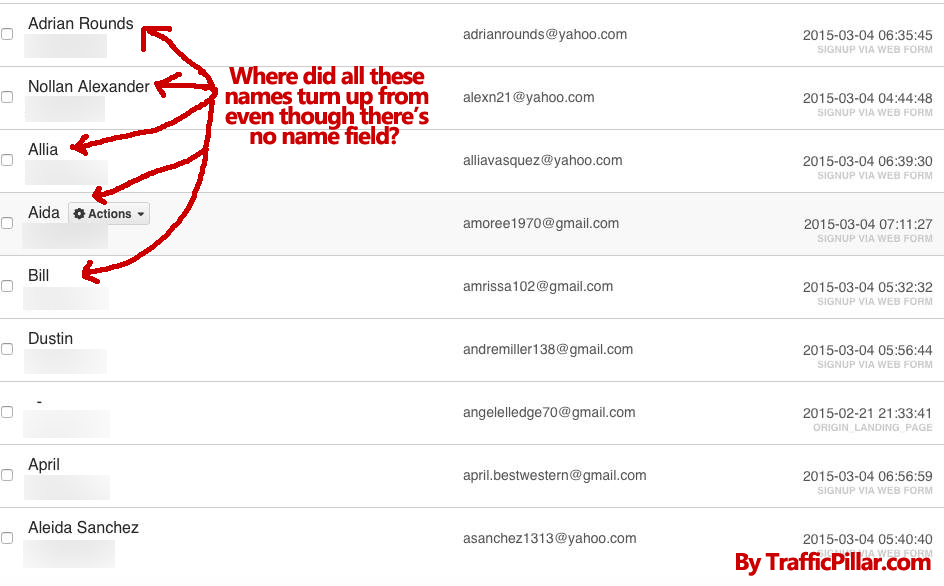 5th tip: There's no way to discern where it's fake traffic based on the opt-in rate you got from a particular provider, sometimes it could be a tech issue, other times it's the buyer's screwed up squeeze page or some other reason.